When you visit an online shopping website and casually scroll through the product listing as you munch on your favorite snacks, did it ever occur to you about what goes on behind the scenes once you hit the "buy" button? From browsing through countless product listings to finally receiving a confirmation email, the journey of an online shopper may seem simple at first glance. But there is a complex network of various systems that come together to create a seamless online shopping experience.

At the heart of it lies the digital commerce ecosystem, a dynamic system of interconnected processes that work together to make sure that each customer has a smooth and enjoyable buying experience.

In this article, we'll take a closer look at the intricate back-end mechanism that powers the digital commerce ecosystem and helps an online order make its way from the merchant's warehouse to the customer's doorstep.
Also Read: Ultimate Guide for an Effective Digital Commerce Strategy

Major components of an eCommerce ecosystem are:
An apt eCommerce platform:  eCommerce platforms play a critical role in enabling businesses to sell products and services online. These platforms provide businesses with the necessary tools to create and manage an online storefront, process transactions, and manage inventory and shipping. There are numerous ecommerce platform options available, each with its own set of features, pricing structures, and integrations. Some of the popular eCommerce platform options available are WooCommerce, Magento, OpenCart, Shopify, Wix, and Squarespace .

The platform that businesses should choose solely depends upon their needs and the complexity of their business model. For example, a complex eCommerce business will need an eCommerce platform that can handle the complexity and scalability that comes with it. In this case, a popular example is Magento which is open source and offers good customization options, and supports scalability. But to get started with Magento, you will need a dedicated team of Magento developers to help you get started. On the other hand, a business with limited needs or that is just getting started can manage with ready-to-use and drag-and-drop eCommerce solutions such as Shopify.


Payment processors: Payment processors play a critical role in enabling ecommerce businesses to accept payments from customers around the world, which is essential for growing and scaling an online business. They facilitate online payments, validate payment information, and help process payments with ease. Some of the popular options available are Paypal, Apple Pay, Amazon Pay, Stripe, Authorize.net, Braintree, and several others.

Here are a few factors to consider when choosing a payment processor: 
What payment methods are your customers already using
Will the payment easily integrate with your existing system and technologies?
How good is their security and market reputation
How competitive is their pricing?
How good is their customer service?
Powerful backend system: It typically includes a powerful backend system that integrates ERP and WMS to manage operations such as inventory, sales, and customer data. For example, Shopify provides an ecommerce platform with built-in ERP and WMS capabilities. Additionally, a reliable shipping and logistics service is essential to ensure the timely delivery of orders to customers. FedEx and UPS are popular examples of such services.
Communication channels: Internal and external communication channels  help transparency amongst various entities involved.  External communication channels, such as social media platforms and ticketing platforms, can help to address clients' concerns directly. Other modes of communication include email newsletters and customer support services that enable the ecommerce website to communicate with its customers and vendors effectively. For instance, a customer service representative can use email or chat to resolve a customer's query, or relevant social media platforms can be used to share updates and engage with customers.
Marketing: Advertising, SEO, Social media marketing, and email marketing are ways to reach out to new customers and nurture existing ones. For instance, leveraging the power of email marketing to send out personalized product recommendations to your existing customers or using the right social platformswhere your target audience is present for brand building and reaching out to new customers.


Analytics and data: Analytics and data can help ecommerce websites in various ways. For example, by using real-time data analytics, ecommerce businesses can gain valuable insights into customer behavior, preferences, and shopping patterns. This information can be used to optimize the online shopping experience, increase conversions, and boost sales. Common tools that businesses can use for tracking their website analytics are Google Analytics, Hotjar, Mouseflow, Crazyegg, and several others that help business owners to dive deeper into website performance metrics.

A real-time example of this is Amazon. The ecommerce giant uses a sophisticated data analytics system to track user behavior on their website in real time. This allows them to personalize the shopping experience for each customer, recommending products based on their previous purchases and browsing history. Additionally, Amazon uses data to optimize its supply chain and logistics, ensuring that products are delivered quickly and efficiently to customers.

All the components of the eCommerce system must be in sync to provide the customer with unparalleled service and support. If you have one faulty system, it will directly impact the customer's confidence in your brand. So, your system should work seamlessly from when the customer comes to your website to get their order delivered finally.
Secondly, from a scalability and business perspective, you need to keep improving your existing system through customer feedback and use appropriate marketing and advertising channels.
Major challenges faced by today's eCommerce businesses :

Poor website design and user experience

A website's design and user experience are critical factors in driving traffic, retaining customers, and increasing sales. A poorly designed website with a confusing layout, slow loading times, and a complicated checkout process can lead to high bounce rates and lost sales. A recent survey conducted by Vistaprint revealed that 42% of consumers are hesitant to buy from a website that appears unprofessional or poorly designed, and an additional 21% claimed that they are unlikely to make a purchase at all. With the increasing number of touchpoints between businesses and customers, it's crucial to comprehend how both the front-end and back-end of an ecommerce website operate individually and collectively, to provide a smooth and seamless omnichannel experience.

Inaccurate understanding of new technologies
One crucial factor in achieving success is leveraging technology to streamline operations, automate processes, and enhance customer experience. For instance, if you plan to launch an e-commerce platform, you must ensure your website is user-friendly, mobile-responsive, and optimized for search engines. Moreover, you need to stay abreast of the latest developments in online payment systems, data analytics, and cybersecurity to protect your customers' sensitive information and maintain their trust.
Failing to adopt new technology or software can leave your website vulnerable to security breaches or outdated features, leading to a decline in website traffic and sales.
Inefficient operations and fulfillment processes

Efficient operations and fulfillment processes are critical for ensuring that orders are processed accurately and shipped on time. This includes inventory management, order processing, and shipping and handling. Inefficient processes can lead to delays, errors, and unhappy customers. The back office operations need to be constantly monitored and upgraded to keep up with the customer demands and prevent any bottlenecks.
Inadequate marketing and advertising strategies

A robust marketing strategy is critical for the growth and success of any online business. Without a well-planned marketing approach, businesses risk being invisible to potential customers, limiting their growth potential.

Search engine optimization (SEO) is a crucial aspect of any marketing strategy. By optimizing your website for search engines, you can improve your website's visibility and attract more traffic organically.

In addition to SEO, email marketing and social media marketing are other critical components of any online marketing strategy. By creating and nurturing relationships with your existing customers, you can encourage repeat business, increase customer loyalty, and cross-sell other products or services. 
Ineffective customer service and communication

Providing good customer service is a straightforward method to retain customers and achieve stable revenue growth. However, businesses often struggle to nail this aspect of an eCommerce business which leads to decreased customer satisfaction and loyalty. For instance, if a customer has a problem with an order and receives a slow or unhelpful response from customer service, they may be less likely to return to that business in the future.

How our approach addresses the above challenges?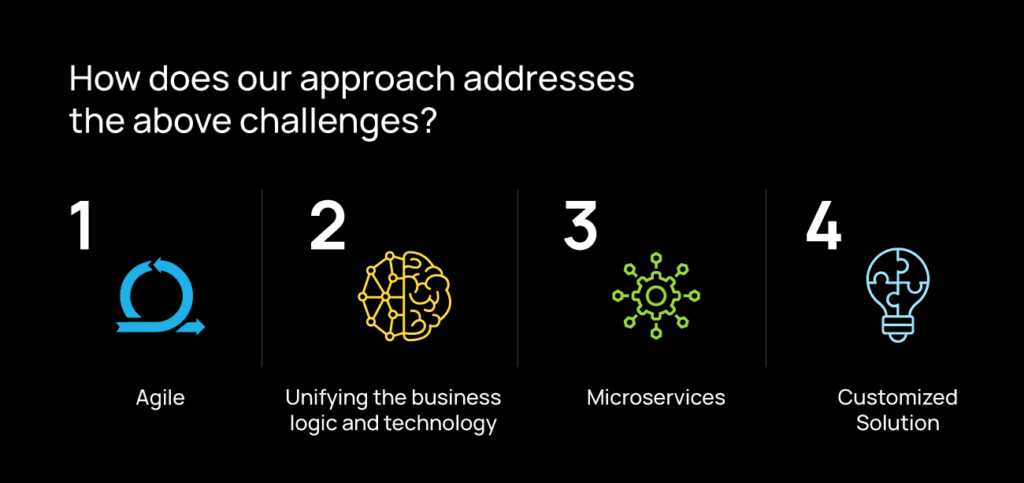 Customized solution

We understand that each client has specific requirements, and therefore, we work closely with them to understand their challenges and dive deeper into their business to identify any further gaps before coming up with a recommendation. It ensures that our recommendations align with their goals and objectives. We offer a very customized/personalized consulting approach, with our rich domain expertise, which helps identify gaps and suggest best-fit solutions. For instance, one of our clients faced challenges because of a lot of manual work in their order processing system. So, we helped them automate their entire process of printing and labelling shipping orders to process their orders faster.
Agile

At Tecstub, we firmly believe that being Agile is one of the most important values we bring to our e-commerce development projects. Our approach to Agile development has helped us to create e-commerce solutions that are robust, scalable, and meet the needs of our clients. One of the key advantages of
One of the key advantages of Agile development is that it prevents a single point of failure because of its adaptive nature. It allows us to be flexible and responsive to changing requirements. We understand that the world of eCommerce is constantly evolving and that our client's needs may change rapidly. Using an Agile approach, we can quickly and effectively adapt to these changes, ensuring our solutions remain relevant and effective.
Another important benefit of being Agile is that it allows us to build e-commerce solutions by breaking down the development process into smaller, more manageable chunks. This approach is beneficial for our customers as well, where instead of waiting for 2 months to see the entire system in action, the client gets chunks of features delivered very frequently and gives us a chance for an early feedback loop to be able to pivot if required. As a result, we can test and validate our solutions at each stage of the development process. It also helps businesses to gauge the effectiveness of their product and understand the needs of their customers, giving them the liberty to pivot if needed.

Unifying the business logic and technology

In the world of eCommerce, the backbone of any successful business lies in its business logic. This refers to the set of rules that govern how data is processed and workflows are executed in the backend code of a system. As every eCommerce business is unique, the complexity of its business logic and implementation varies accordingly. Moreover, as businesses grow and evolve, their business logic may require modifications to cater to new requirements. To address this challenge, our team, with over eight years of experience in developing B2B eCommerce platforms, has honed its expertise in mapping business logic to technical specifications. Based on the specific needs of each business, we recommend the most feasible technology stacks for long-term success.

Unlike most digital commerce solution providers that favor technology implementations that are more profitable to them, Tecstub's approach is solution focused, which means we are receptive to exploring new technologies that are most suitable for a given problem, thus eliminating the constraint of being restricted to a narrow range of tech stacks.

Here is an example of what we mean by business logic. To ensure the growth of a B2B eCommerce website, building strong relationships with customers is essential. A way to achieve this is by offering special discounts or offers that are exclusive to them. By tying this business logic to our system, we can enable a particular user to view and take advantage of these exclusive offers, thereby fostering a stronger relationship between the customer and the business.

Microservices 
The traditional monolithic digital commerce architecture doesn't support an eCommerce business's rapidly changing needs. Although they are feature-rich systems that fulfill all the needs of a digital commerce business, as the system scales and becomes complex, making modifications becomes tough.
In today's modern eCommerce world, Microservices architecture helps manage the growing needs of businesses. Microservices are independent software units loosely coupled and communicate with each other using APIs. They can be used together or scaled independently. It gives us an advantage where we can help businesses by providing them with customized solutions faster and more efficiently. Check out our case study right here.


Our focus is not just building a platform; instead, we want to provide a complete system that spans all the needs of an eCommerce business to grow and flourish.

When it comes to eCommerce, it's about more than just setting up a website. The real challenge lies in implementing the right business logic and processes to ensure a seamless and successful online presence.  At Tecstub, we understand the importance of a comprehensive approach to eCommerce. That's why we offer end-to-end solutions encompassing every aspect of the process, from initial business ideas to implementation and ongoing maintenance.

If you're looking to take your eCommerce business to the next level, look no further than our team at Tecstub. Our experienced professionals can help you optimize your website, streamline your operations, and increase your sales. Whether you have specific business queries or just want to learn more about how we can help, we encourage you to connect with us today here.