The eCommerce industry has witnessed significant technological advancements in recent years. An interesting example would be Nike's augmented reality-based solution called Nike Fit. According to the company, three out of five people wear the wrong shoe size, and they developed this to address such problems when people shop online.
It wasn't just Nike; other leading brands, such as Gucci and Adidas, are also exploring new ways to expand their reach by creating non-fungible tokens (NFTs) in the Metaverse.
All these reflect the role of technology in eCommerce in providing customers with an exceptional experience. As the competition in the eCommerce industry continues to grow, businesses need to adopt innovative approaches to meet changing customer demands.

However, 2022 has seen its share of political and economic crises, such as the Russian-Ukraine war and the recession in the U.S.A.
The big question is will these factors impact the digital commerce industry in 2023. If yes, how and what measures can businesses take to be least affected by the results? Apart from that, what are the other latest eCommerce trends that will dominate the industry? We will answer these questions in this blog, so let's start with top eCommerce trends in 2023.
1.) Unified Commerce
Unified commerce means bringing all your sales channels, payment systems, products, and customer interactions together on a single platform. It involves connecting your backend system to all the customer touchpoints (online and offline) they use to view and buy products. The ease of a single platform allows the consumers to purchase, receive and return items on their chosen channels. One of the key advantages of unified commerce is that it allows real-time critical data to flow between different channels.

The centralized platform offers various benefits:
It gives a holistic view of the inventory and stocks, making it easier to view and update stocks in real-time.
You can access data insights across multiple touchpoints that help understand customer behavior and other performance KPIs.
Saves resources and time invested otherwise in integrating various other platforms.
Connecting online and offline sales channels drastically improves the customer experience leading to customer loyalty and higher spending.
The information can help chart effective marketing strategies, improve operational efficiency, and mitigate the hassle of managing numerous resources to help your business scale.
2.) Improved customer service
For any business to thrive, retaining customers is more cost-effective than acquiring new customers. However, for B2B businesses, the buying cycle is long and exhaustive, and there is a huge dependence on building long-lasting customer relationships. Good customer service is one of the simplest ways that help you retain your customers and have consistent revenue growth. As per a report, 72% of B2B buyers state that real-time, always-on customer service is key to boosting customer loyalty. 89% of consumers are more willing to make another purchase if they have a positive customer service experience. Interestingly, good customer service can make customers more accepting of mishaps such as shipment delays.

Having powerful customer service can greatly help retain the existing customer base. The customer should also be able to choose their communication channel, be it mail, phone, chat, or social media. In 2023 businesses will have to work towards providing their customers with seamless customer service and reach them where they are available.
3.) Personalization for brand loyalty
Personalization has already been a game changer for the eCommerce industry in the past few years. And moving forward, the personalization game will even become more critical. Marketing strategies such as ABM (Account-based marketing) take a different approach to personalization, and it helps you determine accounts that have the potential to be the biggest revenue generator for your business. Using this technology, businesses can send personalized content to decision-makers of these accounts on the platforms they are active.

Common ABM strategies include:

1.) Identification of the key accounts
2.) Content marketing strategy relevant to individual accounts
3.) Defining customer journey map
4.) Leveraging behavioral data for creating customer personas
5.) Developing the right content that inspires action
4.) Impact of inflation on average order value
Inflation in the U.S. has been at its record high in forty years. But how does it impact an eCommerce business? Let us understand this from a business perspective which is that during inflation, there is a direct decrease in purchasing power. It directly impacts manufacturing costs, and businesses might struggle to retain and gain clients.
As per reports, the rising prices and the economic downturn have recorded payment delays of 10.5 days in the B2B eCommerce industry, and in 2023 this will continue to increase. When there is financial uncertainty, shoppers need extra assurance, and businesses should work on price optimization.
Some steps that the companies can take to balance out their profits are:
1.) Introducing deals and offers such as discounts on buying bundled items
2.) Do an inventory audit to identify the best sellers and those that don't sell a lot. The key is to focus on the products that bring in maximum profits.
Read more: How we Automated the Commission Process for a B2B eCommerce retailer?
5.) Environmental concerns and sustainability
The climate crisis is one of the crucial issues looming worldwide. The eCommerce industry has also played a significant role in increasing the carbon footprint. The transportation and logistics industry is a major contributor to CO2 emissions in the U.S. and accounts for 29 % of greenhouse gases. With increasing awareness about the environmental impact, people have become more mindful of sustainability and ecological balance. They are ready to pay more or buy from brands that focus on these factors.
It is a great opportunity for brands to build brand loyalty and differentiate themselves from competitors. They can opt for eco-friendly and sustainable practices such as:
Creating packages using packaging materials that are eco-friendly and sustainable such as
Making provisions for buyers to choose sustainable shipping options (e.g., "Ship all items together in one package, rather than sending them based on their availability")
Making it easy for people to reuse and recycle items.
Adding labels to packaging asking the consumers to reuse and recycle
6.) Dynamic pricing
Dynamic pricing is also called real-time pricing, where the price can change in real-time based on factors such as the demand and supply ratio, currency fluctuations, etc. It allows businesses to control their pricing and offer the right price to the specific customer at the right time. It will be a significant step in helping businesses maintain revenue and get the least affected by inflation. Businesses should conduct extensive research before they implement dynamic pricing in their system. It includes thoroughly understanding the competitor brands and customer base and identifying the sweet spot between being enticing and profitable.
7. ) Social Commerce
As per a report by McKinsey, social commerce is set to grow three times as fast as traditional eCommerce platforms. It is already set to reach 1.2 trillion dollars by 2025 from its current $492 billion. Influencer marketing is one of the major aspects of social commerce that drive user engagement and sales.  When a product is recommended or endorsed by an influencer or creator, the buyer automatically trusts the product and is ready to buy it.

Investing in social commerce is definitely needed because it helps with customer engagement and boosts sales. But it also impacts the customer journey that businesses will need to take into account when they incorporate social commerce into their business.  Let us understand it how. So, in a traditional setup, when a buyer discovers a product, he heads to the brand-owned channels, such as their website, or app, to complete the purchase. But with social commerce, the consumer stays in the respective platform such as Instagram, Snapchat or Facebook to complete their purchase.  It might affect the direct-to-consumer relationships for brands, and to combat it, businesses will need a holistic approach to influencer partnerships and for social-first content.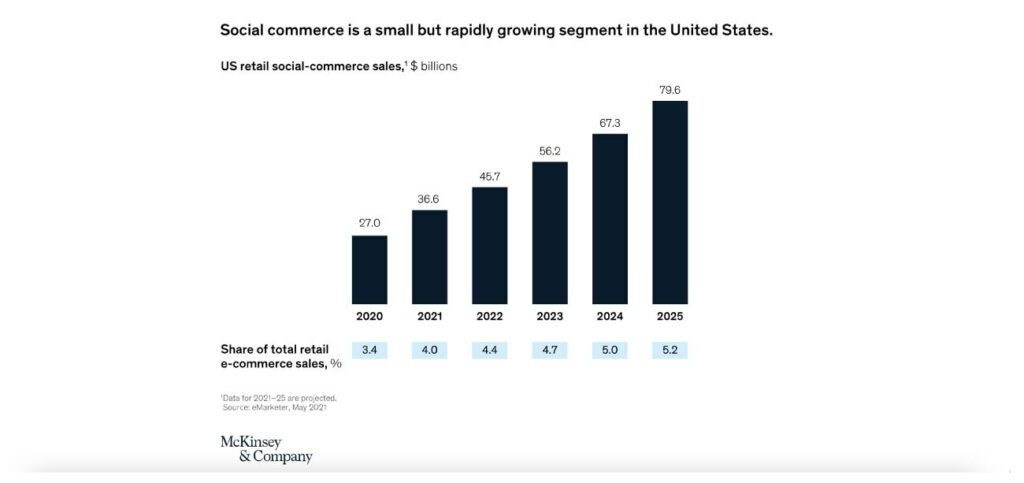 8.) Visual Search
Visual search allows users to search using images and is commonly used through tools like Google Lens. With 62% of Gen Z and millennial customers seeking visual search capabilities and 23% of Google search queries yielding images, this trend is rising. Despite this, only a small portion of about 8% of eCommerce brands have incorporated visual search into their website.

To stay ahead of the competition, eCommerce businesses can optimize their website for visual search. Major eCommerce platforms like Magento and Shopify offer visual search features that can be easily integrated into your website.

Some of the ways that you can prepare your website for visual search are:
Adding images to your sitemap so that it can be crawled by Google
Adding alt text to your images to give the right context
Sizing the images in the right sizes
Caption images with relevant keywords
Modify chatbots to accommodate visual searches
9.) Rise of Mobile Commerce (m-commerce)
One of the most popular eCommerce trends for businesses is going to be m-commerce. If we go by the numbers, a report by Statista suggests that by 2025, mCommerce will account for over 10.4% of all retail sales in the US. it is also one of the leading eCommerce trends in India, with an estimated eCommerce sales of $38 billion in 2020. Mobile Commerce isn't a new phenomenon but something that is gradually happening for years now. As more and more people are getting used to smartphones and the internet being no more premium service, there has been a significant shift in the mobile consumer base. With time the average hours spent on mobile devices will only rise, pushing the growth of mobile commerce. So, eCommerce businesses should leverage platforms to connect directly with customers on mobile devices. It must include social media apps, SMS and Whatsapp messaging that initiates one-on-one conversations.

Businesses in 2023 will majorly focus on improving the customer experience, sustainability, and stabilizing profitability. Unified commerce will keep gaining traction, and more and more businesses will look forward to unifying their various platforms for a seamless customer experience. Other technologies, such as blockchain, will keep evolving. 
FAQ
What are the top eCommerce trends?
The top eCommerce trends are:
1.) Social commerce
2.) Mobile commerce
3.) Unified commerce
4.) Personalization
5.) Visual search
6.) Unified commerce
How should businesses leverage eCommerce trends?
Businesses shouldn't try to incorporate all the eCommerce trends. They should first assess the needs of their business and accordingly incorporate the relevant trends.
What are the new technologies for eCommerce?
Big Data, AI-powered personalization, content creation, progressive web apps, and BNPL (Buy now pay later)  are some of the technologies integral  to eCommerce.
Which will be one of the most crucial eCommerce trends?
Social commerce and influencer marketing is becoming one of the most powerful tools for online selling. It allows businesses to expand their customer base and make more sales.