The eCommerce industry has witnessed a phenomenal expansion in the past few years, and the pandemic has significantly boosted the growth. The central idea behind most trends revolves around providing the customer with the best user experience.

In the words of Jeff Bezos, CEO of Amazon, "If you're competitor focused, you have to wait until there is a competitor doing something. Being customer-focused allows you to be more pioneering."
As per a report by Digital Commerce 360 42% of distributors say creating a more sophisticated website to meet customers' needs better is their most significant challenge for the coming year.
1.) Augmented reality

The first and most popular stint of Augmented reality dates back to 2016, when PokemonGo hit the world. Although augmented reality technology wasn't something brand new, PokemonGo put it on the mainstream map.
As time passed, the relevance of augmented reality extended beyond gaming, and therein came AR in online shopping. According to Google's 2019 AR Survey, 66% of people are interested in using AR for help when making purchasing decisions. AR allows users to view products in a 3D virtual environment. A great example is Ikea that caters to B2B as well as B2C, which enables users to see how furniture pieces can jazz up their homes/office spaces. The B2B ecommerce industry is no more aloof from the AR revolution. Statista reports that the augmented reality market is projected to have 2.4 billion users by 2023. So, it is evident that AR is here to stay and will become a significant component of E-commerce businesses.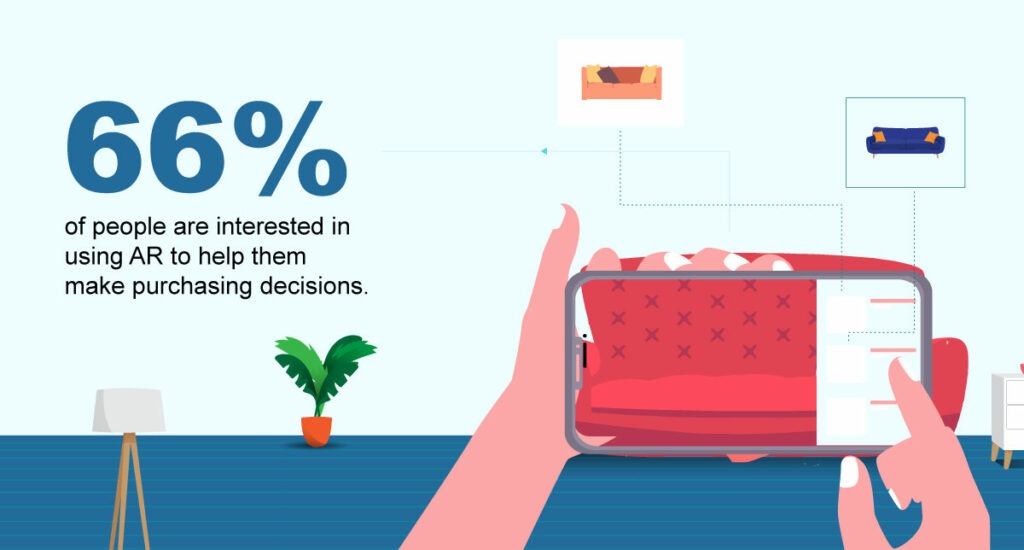 How can AR impact sales for B2B businesses?
Increased conversion rates :A 3D & AR commerce company Vertebrae reported that retailers who implemented AR technology during the pandemic saw a 19% increase in customer engagement. Increased customer engagement plays a crucial role in increasing conversion rates.
Accelerates sales cycle :As per a report by Adobe, 38% of B2B buyers claimed AR can accelerate their buying cycle since it helps businesses visualize the features and capabilities of products in real-time. In addition, it saves them time to go through heavy product specifications to understand how it works.
Increases Brand loyalty and builds trust : When buyers buy a product, they don't want to be surprised, meaning they should get exactly how it looks in the picture or a video. Sometimes even after putting up spot on images, they might not do justice to the customer's needs. It is where AR can help by providing a thorough 3-d overview of the product and help customers get crystal clear understanding of the merchandise.


2.) Omnichannel marketing
Omnichannel is a lead nurturing and user engagement strategy in which a business gives consumers and prospects access to its goods and services across all platforms, channels, and devices. At different stages of the buying cycle, the customer prefers to interact through various channels such as face-to-face, online chats, video conferencing, or online /eCommerce marketplaces. So, it has become imperative for the B2B marketers to work on an omnichannel strategy to retain their customers.

Take Amazon for an example that allows its user to access their account through their website, mobile apps, its voice-assistant Alexa, tablets, and more. You can ask Alexa to reorder something or set up a recurring delivery.

As per a report by McKinsey, the B2B buyer behavior has changed dramatically after the pandemic. They interviewed some US-based B2B decision-makers and the results were:
B2B customers use ten or more channels to interact with suppliers (up from just five in 2016).

Buyers are ready to spend big amounts remote or online. 35% ready to spend $500,000 (in a single transaction) and 77% ready to spend $55,000 or more.
Here are list of potential benefits that omnichannel marketing has to offer for B2B :
Help customer retention :According to the McKinsey report, 8 in 10 B2B decision-makers will look for a new supplier if their needs are unmet. It indicates that Brand loyalty is something that B2-B marketers will have to try hard for, and omnichannel marketing is one of the solutions.
B2B marketers can't address the needs of their customers through one channel, so they need to provide their customers the flexibility and combination of options that include (face-to-face interaction, remote, chat support, and video conferencing ) as per the needs of the customers.

New avenues to grow : Shifting loyalties gives options to B2B marketers to grow where they can target their competitor customers who are looking for new solutions. According to Forbes, the idea is to take help from intent monitoring that leverages data and helps marketers find their potential customers. The data is related to website visits, search engine queries, content downloads, and then strategically approaching these customers. The McKinsey repor[1] t further added that today, 94 percent of B2B decision-makers say the new omnichannel sales model is more effective than the sales model they used before the pandemic.

3.) Personalised user experience

Personalization is about providing users with relevant information as per their preferences. To provide personalized content, companies leverage data related to the user's past viewing history, items in the cart, location, and more. It includes custom catalogs , custom pricing , process and roles and more.
Personalization is not limited to a website but extends to emails, chatbots, videos, personalized ads, and much more.
The personalization game in B2B is more elaborate and complex. However, trends show that B2B buyers also want a personalized user experience. Some of the big names acing the personalisation game are Amazon , Netflix , Spotify , Hubspot amongst many others. Personalisation is about making educated guesses of what your audience are looking for and accordingly serving them.

A personalised user experience can help B2B businesses with :

Directly impact sales : According to Econsultancy, 80% of companies see a lift in sales after implementing personalization. Personalisation helps you to build unique connections with your customers. It not just helps improve customer experience but also makes them feel listened to. When you provide the right message at the right time and place then the chances of them buying are more. For instance , you can offer personalized offers to customers residing in a demographic where a holiday season is soon approaching.

Improves your Brand image: Everyday the Internet is becoming noisier. There are so many brands offering similar services and products. Personalization can play a crucial role in helping you stand out from your competitors. Customers want to connect with platforms that understand them and their specific preferences. A whopping 65% of business buyers have stated that they will find another brand if a business doesn't use personalization. Thus , it can help improve customer retention. For example, personalization allows you to have dynamic content on your website. So, when a user visits, they see a page tailored to their interests. It makes them engage more, buy more, and push them to visit your website more often. All of this results in high customer retention and an improved brand image.

4.) Metaverse

Metaverse is the next big thing in technology that combines several technologies such as AR (Augmented reality), VR (virtual reality), and BCI (brain-computer interface) and bridges the gap between the real and virtual world. Think Metaverse as a parallel world where everything exists, from shopping malls to leisure rooms to meeting rooms to workspaces, and the list can go on. Metaverse allows users to create avatars that represent or mirror them in real life.
In Metaverse, businesses can set up their virtual stores or even attend and organize events and conferences to build, foster and nurture business relationships. By 2026, 25% of people will spend at least one hour a day in the Metaverse for work, shopping, education, social, and/or entertainment, according to Gartner, Inc. Although Metaverse is in its nascent stages, companies need to start focusing and planning on the basic technologies so they don't lag behind in the game.
Imagining how Metaverse can really help a B2B business is hard so here are some quick ideas to get an overview :

In-person meetings and collaboration : Nothing can beat the impact of in-person meetings. Metaverse will allow businesses to meet prospective customers in virtual environments and build long-lasting relationships. Also, they can collaborate with their competing brands, tap into fresh markets, and leverage new target audiences.
Immersive customer experience : Metaverse will allow businesses to provide customers with a hyper-personalized digital experience. Besides, it will offer the buyers excellent product visualization capabilities that are currently limited in online shopping. Imagine having a virtual store that your customers can visit and comb through different products. Brands like Gucci, Nike, Louis Vuitton, and Forever 21 have delved into metaverse-based marketing campaigns. B2B brands can also include a virtual assistant to provide their customers a guided tour of their product specifications and solve queries related to quotes, bulk pricing, stock availability, etc.
Increased sales and ROI : Metaverse can help businesses improve their sales and ROI as it gives companies access to potential customers and buyers all around the globe. It also opens up new avenues for advertising that are more impactful compared to traditional forms. For instance, gaming metaverses such as Fortnite allows businesses to build brand awareness engagingly. Wendy's – a fast-food chain in the USA, participating in the Metaverse game Fortnite that allowed it to reach 24 million daily users playing the game. They uniquely crafted the game that conveyed their brand messaging to millions of users that their beef is fresh and never frozen.


5.) Fraud prevention and Enhanced payment methods
According to a report, in 2018, the retail industry lost $40 billion (US) to fraud. Another study states that 52% of retail and manufacturing leaders consider security as the top challenge of eCommerce business. Since the pandemic hit, the eCommerce industry has recorded astonishing growth but what has come along is the increased frequency of cyberattacks. So, in the upcoming years, companies will also heavily focus on technologies that help prevent security breaches, have stricter control over cloud services, and limit access to sensitive data and systems.
6.) Flexible B2B payment options :
B2B payments are more complex than B2C, and one of the most common differences is the pricing and quoting, which are not the same for all the customers. But with the pandemic being the catalyst and digital transformation picking pace, there has been a shift to cloud-based and automated payment systems. As per a report by Gartner, by 2025, 80% of the transactions will take place digitally.
Some of the digital trends to look for are :
1.) Smart payments: The traditional electronic payment approach involving ACH (automated clearing house) is efficient but has limitations. To understand it better, when a B2B payment is made, the details related to the respective remittance, such as invoice number, payment method and amount, etc.) are not attached. So, a separate account specialist manually matches the ACH payment with the respective invoice that leads to a lot of unwanted work. A smart payment allows the amount and the data related to it to be stuck together. Hence, making the amount getting attached to the respective invoice.
2.) Flexible payment options support: Payments made in B2B are diverse, and eCommerce marketers must take note of that and provide their customers with flexible payment options. It will allow them to accommodate their customers' varying needs, leading to customer retention and brand loyalty in the long run.
3.) Blockchain and Cryptocurrency: The Blockchain provides a decentralized infrastructure that helps process transactions 96% faster than the traditional model. It eliminates the need for intermediaries such as banks. Although cryptocurrency has always received mixed reviews, companies will still have to consider crypto payments as well, given how cryptocurrencies are picking pace and constantly evolving.
7.) Digital Supply Chain Management :
A digital supply chain leverages digital technologies to improve the efficiency of the conventional supply chain model. A well-optimized supply chain helps businesses reduce recurring issues of the conventional model. Lack of transparency and higher dependence on manual work are some of the several issues that it addresses. As per a report by Oracle digital supply management can help improve efficiency and productivity by 40- 70%. It helps with automation of the repetitive processes , establishes better coordination with stakeholders and smart inventory management.
Benefits of digital supply management:
Improved supply chain planning: From manufacturing to delivery everything is effortlessly managed with a digital supply chain model. Businesses could identify any issues such as delays or problems with quality control early on leading to better coordination with stakeholders such as vendors, intermediaries, third-party providers, and customers involved in the supply chain.

Data and advanced analytics: Digital supply chain management leverages data-driven technologies that improve inventory management, aid in preventive maintenance, and help identify and improve operational inefficiencies.

End-to-end customer engagement: Digital technology can improve customer experiences. For example, supply chain managers can manage their customer queries with seamless transparency as they now have real-time data access. As a result, in case of an issue or delay, they can better prepare them to deal with customers. Also, the customer can receive timely automatic updates of their booked orders, giving them a clearer picture.

Final words
Many businesses are steadily adopting revolutionary technologies to keep up with the changing buyer needs. Personalization has already cemented its position from nice to have to a must-have, and augmented reality is also gaining enormous traction for its powerful and interactive features. Currently, Metaverse is utilized for advertising and brand awareness, but given the buzz around it, it will only get mainstream with time. Businesses should first thoroughly analyze their customer behavior and then accordingly draft a plan of which technologies they should prioritize. The idea is not to do all of it at once but to understand your customer behavior and preferences and develop the right action plan.
Get in touch with us at [email protected] for a personalized consultation where we can guide you with the right actionable strategy.